Bring the party along with Wright Party Bus & Limousine! Indianapolis is home to some of the biggest events in the country. The capital city of Indiana is the 12th largest city in the US, so there is always something going on. With so much to do, use
Wright Party Bus
to handle all your transportation needs. No matter the event's size or location, we have the right vehicle for you and your group!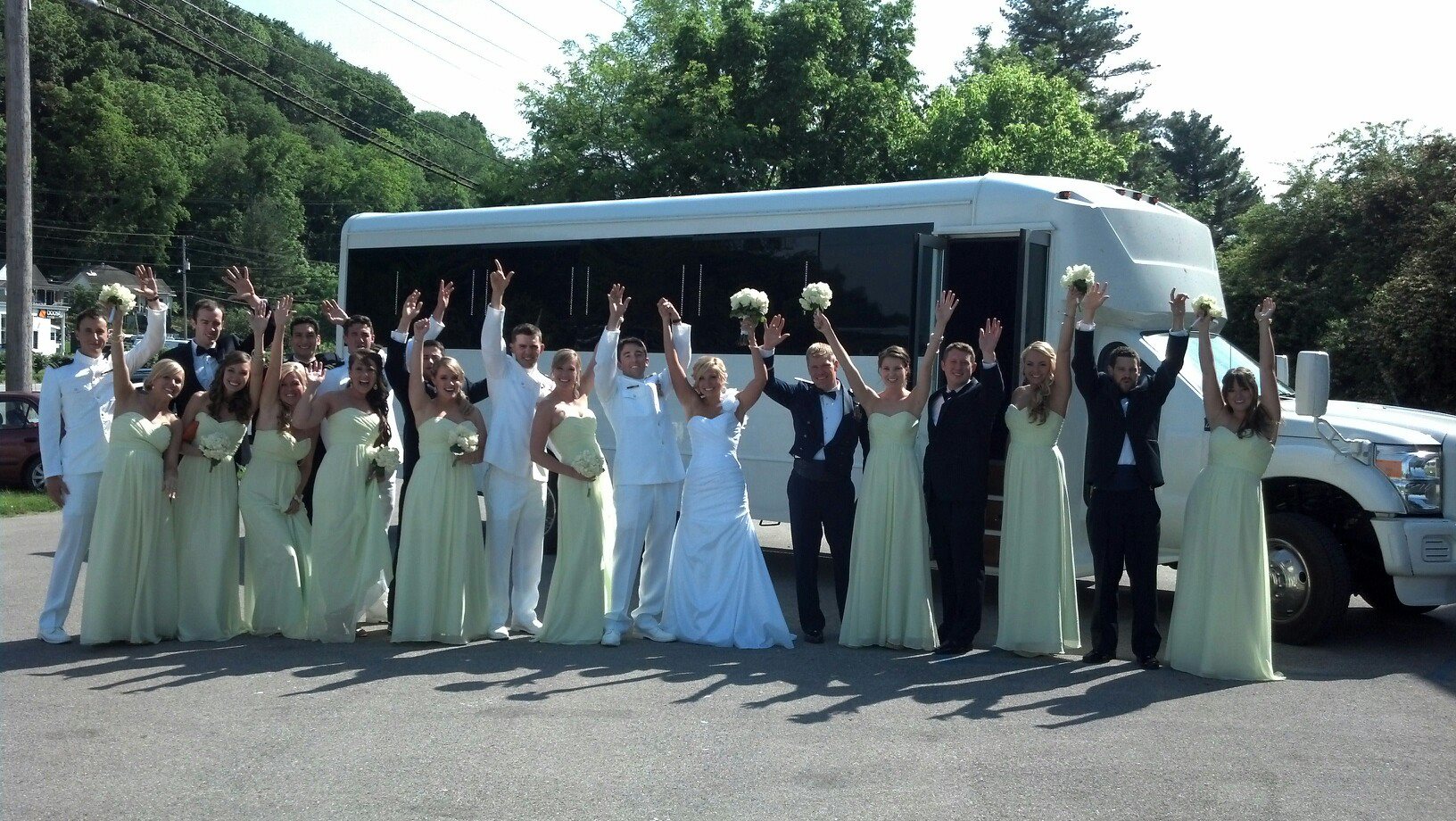 Weddings
Planning and executing your special day comes with a plethora of stress and pressure. The most special day of the year is reserved to celebrate, so don't let minor details get in the way: Wright Party Bus will take care of scheduling so that you don't have to worry about it. Our spacious luxury buses and limos will let you stretch out and relax. From getting to the chapel to leaving for the reception, Wright Party Bus can ensure that no matter where you're going, you'll get there on time, safely, and in style.
Bachelorette & Bachelor Parties
Before one of your biggest and best days, the traditional bachelor or bachelorette party is the night to spend with your best friends. We're happy to help with restaurant recommendations or scheduling assistance—just give us a call for a quote. And for those of you who are planning evenings that are more risqué… Wright Party Buses have built-in dancer poles, so we can arrange for instructional pole classes, or it can serve as a prop for your favorite professional entertainer.
Wright Party Buses have TVs, sound systems, fog machines, and disco and laser lights that will take your bachelor party from commonplace to extraordinary. Whether you remember it or not, you can be sure you'll be safe with a Wright Party Bus vehicle. You can tour all over Indianapolis with no worries about a designated driver, parking, or group coordination.
Games & Tailgating
Nothing is more Midwestern than football, and Indianapolis follows and loves the Colts like one of their own. You can expect every Sunday in the fall to revolve around the Indianapolis Colts. The team is used to winning, so the die-hards come out to every game. Go to the tailgate with a bus from Wright Party Bus, and not worry about a thing! Enjoy the game, your friends, and the food and drinks, let us handle the parking, traffic, and driving.
Wine Tours
Surprising to many, Indianapolis is home to several local wineries. Take a planned tour along the many different local vineyards and wineries with the best group of friends or just a special someone to you. No matter the size of your group, we'll have a vehicle at Wright Party Bus that will comfortably and safely get you around to each one.
Corporate Events
Team building can be an energizing experience. Treat your staff to a ride to your corporate event or retreat in a Wright Party Bus. Plush seating and climate control will keep everyone comfortable on the way, and HD TVs and sound systems are perfect for displaying those inspirational videos. Give us a call for a custom quote and for facility recommendations in Indianapolis to accommodate you and your group.
Bars & Clubs
The Indianapolis downtown area is a great local area to go out in. Named as one of the best downtowns by Forbes magazine with over 200 shops, 35 hotels, and 300 restaurants and bars to choose from. Along with a mixture of theaters, sporting venues, and parks, there is plenty to choose from and partake in. Nothing beats jumping on a Wright Party Bus bus to hop around and take you from location to location, in a safe and fun way.
Concerts
On any given night, Indianapolis has no lack of music to enjoy. Wright Party Bus can do the navigating while you listen to music in style and in comfort on the way there. You can queue up your favorites in our state-of-the-art sound system, and pre-game with beer or wine beforehand without the hassle of long lines at the venue.
High School Dances
Each and every high school dance should be a night to remember. Wright party buses feature wet bars (stocked with soft drinks, water, and juices) and state-of-the-art sound systems (iPod, CD, and DVD) that let you customize your playlist to suit the occasion. Plus, you can stream your music across our flat-screen televisions, giving everyone an immersive experience.